Editor-in-chief: Fjodor B. Uspenskij
The editorial board: Iskra Hristova-Shomova, Angel Nikolov, Maria Yovcheva (Bulgaria); Milan Mihaljević, Mate Kapović (Croatia); Václav Čermák (Czech Republic); Roland Marti, Björn Wiemer (Germany); András Zoltán (Hungary); Marcello Garzaniti (Italy); Jos Schaeken (Netherlands); Alexander I. Grishchenko, Ekaterina I. Kislova, Roman N. Krivko, Sergey L. Nikolaev, Maxim M. Makartsev, Philip R. Minlos, Alexander M. Moldovan, Tatiana V. Rozhdestvenskaya, Alexei D. Shmelev, Anatolij A. Turilov, Boris A. Uspenskij, Rev. Mikhail Zheltov (Russia); Jasmina Grković-Major, Tatjana Subotin-Golubović (Serbia); Robert Romanchuk, Alan H. Timberlake, William R. Veder, Alexander Zholkovsky (USA).
Announcements
Moscow State University of Education Has Become a New Publisher for the Journal Slověne = Словѣне

 

We would like to announce officially that the Institute for Slavic Studies (ISS) and Moscow State University of Education (MSPU) have concluded a contract between themselves and with the Editorial Team, stating that MSPU has become a new Publisher of the international academic journal Slověne = Словѣне.

Posted: 2016-07-21
More...
Vol 5, No 1 (2016)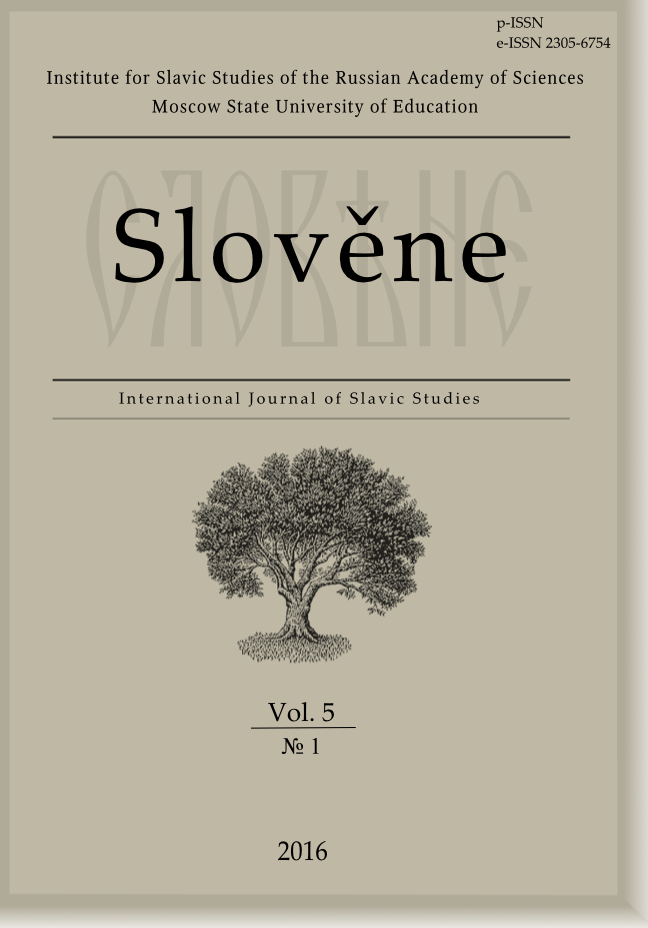 Slověne = Словѣне. International Journal of Slavic Studies. Vol. 5. № 1. — Moscow: Moscow State University of Education, 2016. — 300 pp.