Editor-in-chief: Fjodor B. Uspenskij
The editorial board: Iskra Hristova-Shomova, Angel Nikolov, Maria Yovcheva (Bulgaria); Milan Mihaljević, Mate Kapović (Croatia); Václav Čermák (Czech Republic); Roland Marti, Björn Wiemer (Germany); András Zoltán (Hungary); Marcello Garzaniti (Italy); Jos Schaeken (Netherlands); Alexander I. Grishchenko, Ekaterina I. Kislova, Roman N. Krivko, Sergey L. Nikolaev, Maxim M. Makartsev, Philip R. Minlos, Alexander M. Moldovan, Tatjana V. Rozhdestvenskaja, Anatolij A. Turilov, Boris A. Uspenskij, Rev. Mikhail Zheltov (Russia); Jasmina Grković-Major, Tatjana Subotin-Golubović (Serbia); Robert Romanchuk, Alan H. Timberlake, William R. Veder, Alexander Zholkovsky (USA).
Announcements
The Journal Slověne = Словѣне in the Databases EBSCO and Index Copernicus

We are happy to inform you that our journal has joined the international databases EBSCOhost (USA) and Index Copernicus (Poland).

The Editorial Team
Posted: 2014-11-14
Vol 3, No 1 (2014)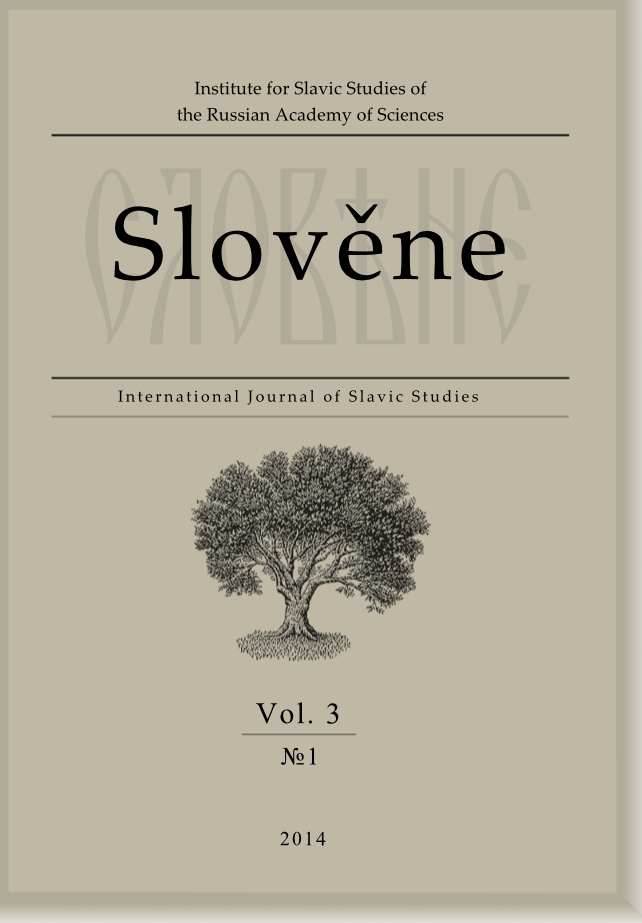 Slověne = Словѣне. International Journal of Slavic Studies. Vol. 3. № 1. — Moscow: Institute for Slavic Studies of RAS, 2014. — 224 pp.